ISO 19593-1 – the benefits for the packaging and label community
Elli Cloots, Senior Product Marketing Manager at EFI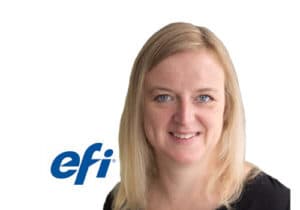 Elli is Vice Chair of the Ghent Workgroup – working alongside Chairman Dave Zwang to coordinate all sub committees including Packaging.
I see two areas where ISO Standard 19593-1 will be of significant benefit for the future for the packaging and label sectors. Firstly, having a global standard for all processing steps, i.e. non-printing parts of production, will help to enable automation and secondly, and very importantly, this will bring about a significant reduction in manual error.
If we look at everything that happens outside of the printing process – deciphering all the instructions that go along with a PDF file has been tedious and time consuming and sometimes impossible. A good example is the number of different descriptions for cutting lines on packages. There is a different word for the cutting line in different countries and in different languages. It is impossible to understand every description. Plus, if the preflight check fails to identify it as a cutting line, it might fail the job thinking it has a line that is too thin to print.
Having this new ISO standard for packaging and labels will mean there will be one convention – one 'name' and when everyone uses the same naming convention, automation will become possible.
And this is just the beginning. With the new ISO Standard mandating cohesive naming within the PDF file, the next chapter for GWG will be around defining new file specifications to identify deeper levels of preflight checking – to find the real mistakes e.g. for a corrugated box you should have a crease and not a fold. At present there has to be someone overseeing production preparation to make sure no printing content is outside of the die cut. And it doesn't stop there, GWG already started work on defining language switches in a standardized way and is looking into best practices around CxF/X-4, and so much more.
On a global level, it will be in the interest of all stakeholders to follow this ISO standard. This will be the main benefit. Everyone will now have to achieve ISO 19593-1 to be compliant and compete in the market place. Expectation is that vendors will adapt their software to support this standard. There are already some early adopters out there who have implemented the GWG specification even before it became an ISO standard. This ISO standard enables full cooperation and cohesion across borders and languages and throughout product development and production. It should not be underestimated how much improvement this will make for the packaging and label community on a global scale. It will allow global levels of automation and streamlining.
As a member of GWG, EFI has insight into standards and industry developments before they happen. Having first hand knowledge strengthens the research and development into our new products. Having this deeper understanding helps us to be at the forefront of industry research. Access to a global knowledge base is of huge value to us.
The Ghent Workgroup is dealing with Standards and Specifications at a very high level. As members, we have open access to GWG tools and best practices. e.g. we use their Output Suite to test our own software before we send it out to the market. In return for all the benefits of our GWG membership, we make every effort to support GWG's global endeavor – the industry and all those businesses we serve. We see this new ISO Standard as a key step in significantly improving packaging workflows, and we are looking forward to contributing to the many steps yet to take. We will do all we can to encourage new participants to join GWG's efforts.