GWG meeting Ljubljana, Slovenia
26 October 2022

-

28 October 2022

Join us for our next technical meeting in the beautiful Ljubljana.
Location
The 
meeting will take place from 26-28 October 2022 in the premises of the Ljubljana University Department of Textiles, Graphics and Design. The Faculty is located in the centre of Ljubljana and is within walking distance from all hotels (max. 20 minutes).
address:

If you would like to join as an observer, please contact admin@gwg.org.
Hotels
As Ljubljana is a popular city to visit, hotels are booked pretty quickly and there is almost no way of getting a group discount. That's why we think it's best all participants take care of their own hotel reservation. We do have a few suggestions below, but feel free to check out booking.com or airbnb for other options.
Price for a single room per night (wifi and breakfast included):
Hotel Lev – 100 €
Hotel Mrak – 82 €
Hotel Cubo Ljubljana – 235 €
Hotel Emonec – 68 €
uHotel – 150 €
Central hotel – 120 €
*please note that these rates are just an indication and might change.
We do advise to take care of your booking as soon as possible!
Agenda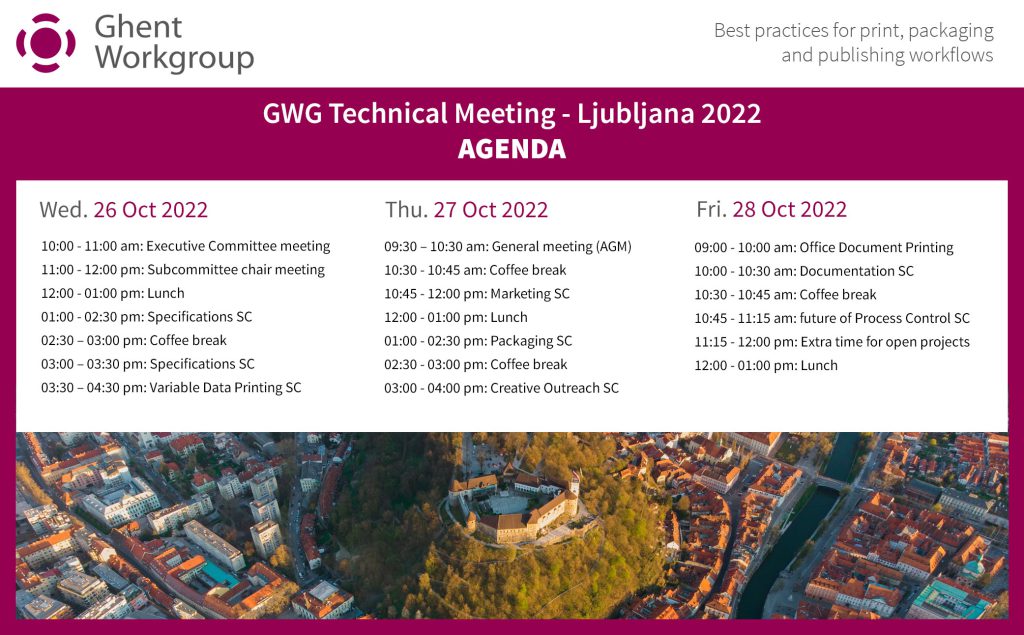 Group dinner
We will have our group dinner on Thursday 27 Oct. at 19.00 in Ljubljana's castle – in the restaurant Gostilna Jezeršek. For more info about the chosen menu, please contact admin@gwg.org.