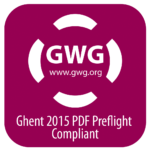 The GWG preflight certification is a validation of the prepress quality control specification developed by the GWG. It contains 14 different 'variants' aimed at different print market segments and output methods, all based on the ISO PDF/X-4 standard, but with additional conditions and restrictions relevant to each segment. The variants cover the majority of common print applications and include web- and sheetfed CMYK and/or spot color, plus magazine and newspaper advertisements. Because the certification is based on the PDF/X-4 standard, it also includes variants which allow the use of RGB colors within artwork files as well as 'live' transparency to support the most sophisticated and up-to-date graphic arts workflows.
The test suite used in the certification process comprises 260 test files that cover aspects such as correct detection of minimum image resolution, use of correct color spaces, white and black overprint settings, ink coverage, spot color usage and naming, and more. File content that does not meet the necessary conditions is either flagged with an error message or with a warning, depending on the importance of the issue and how it could affect output.
For more information on the GWG preflight certification procedure and test files, please visit: Compliancy testing procedure
Information on the GWG PDF/X workflow specification which underpins the preflight certification can be found here: https://www.gwg.org/gwg-2015-pdfx-workflow/.